Surgery at Neuro Spine Riga. A straightforward step-by-step guide.
Thinking about having your spinal surgery abroad? What happens next?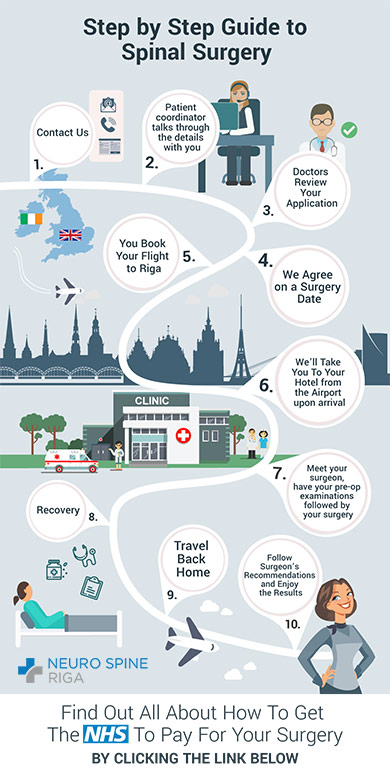 Our easy to read guide explains what steps are taken to ease you through the Neuro Spine Riga experience.
Step 1
Contact us by telephone, email or by completing the enquiry form which can be found on our website.
Step 2
Once we have received your enquiry you will be contacted by one of our patient coordinators. The coordinator will follow you through your journey with us, offering assistance and support, answering questions or concerns and giving clear and concise information where necessary. The coordinator will also be contactable by telephone or email once you return home. A simple health questionnaire will need to be completed, this will be emailed to you along with obligatory information. Any MRI scans that you have (relating to your intended surgery), should also be forwarded to us as, our surgeons will need to see them.
Step 3
An initial assessment by our surgeons, once we have received your questionnaire and applicable MRI scans, will take place. This is to ensure that you will be a suitable candidate for your required surgery. It will be assumed that you will have already been assessed and the necessity for surgery has been confirmed by the NHS. In most cases our surgeons will be in agreement and the next steps may be taken.
Step 4
Generally your surgery can be arranged within one to two weeks, a date will be agreed upon together. Once the date has been finalised you will need to arrange flights. For spinal surgery we try to follow a time schedule. You should arrive on a Monday. On the Tuesday you will have a consultation with your surgeon and have pre-operative examinations. Surgery will take place on the Wednesday. Following surgery for lumbar microdiscectomy or ACDF surgery, you should be able to travel home on the Friday. After lumbar decompression surgery we recommend that you stay in Riga for an extra two weeks, this is due to sitting restrictions during the initial recovery period. We can assist in finding affordable hotel accommodation in Riga for this two week period if required.
We will sign a Medical Travel agreement and you should arrange payment for your surgery. We will reserve a hotel room for your first night's stay. We also recommend that you bring a family member or friend with you to offer encouragement and support during your stay, obviously it is also perfectly acceptable to travel alone. Your guest can stay with you in your hospital room throughout your stay.
Step 5
You will be met at Riga International Airport and taken to your hotel, transport will be arranged by us. Our patient coordinator will meet you later that day to confirm all details and again discuss what will happen in the coming days. The following day the coordinator will bring you to the clinic, they will of course be in contact with you throughout your stay.
You will have a private room, all refreshments and meals will be provided.
Step 6
Following surgery, the recovery phase begins. Information and instruction will be given by your surgeon in regards to what you should and shouldn't do to aid your recovery.
Step 7
Transfer to the airport will be arranged for your journey home.
Step 8
Follow up care is provided by email and telephone, which will be available for one year post surgery. The service allows you to ask questions or seek advice and we also give emotional support. The recovery period will take time and patience.
We hope that your experience at Neuro Spine Riga has been a positive one and we have given you that new start in life.